About Us
En Asie, la meilleure nourriture est souvent vendu sur le trottoir. Les gens se rassemblent autour de petites tables et s'asseyent sur de petits tabourets pour apprécier de la nourriture simple, fraiche et préparée quotidiennement. C'est notre idée : une carte courte, des plats simples, légers et très gouteux.
La déco asiatique minimaliste et moderne est idéale pour les déjeuners de travail, les sorties entre amis comme pour les repas de famille.
Vous ne nous connaissez pas encore ? Venez vite nous tester et nous adopter.
News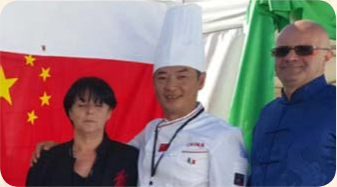 LE CHEF JACKY TENG RÉPRÉSENTANT CUISINE TRADITIONNELLE CHINOISE EN FRANCE
CITÉ ET VUE SUR LE SITE DU "GUIDE MICHELIN"

Last reviews
(Translated by Google) Servings are large, about 3-4 people I especially recommend pork fried buns, the bottom is crispy and delicious🤤 (Original) 餐點份量很大,大約3-4人份 特別推薦豬肉水煎包,底部酥酥的好好吃🤤
(Translated by Google) super good! (Original) Super buono!
(Translated by Google) Very very good restaurant, thank you to the chef and his cooks. 👏 (Original) Tres très bon restaurant, merci à la chef et ses cuisiniers. 👏